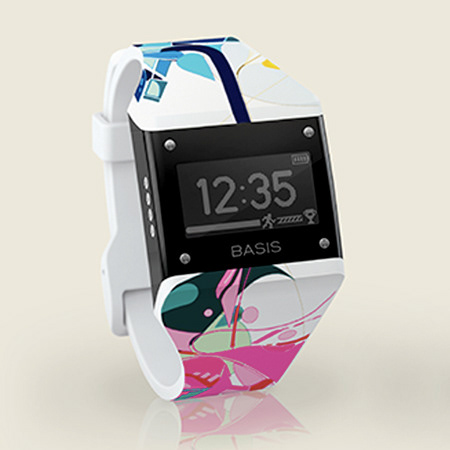 I was pleased to be asked to design a limited-edition graphic wristband for BASIS, manufacturers of cutting-edge athletic wristwear designed to monitor and enhance the active lifestyle by monitoring and analyzing your workout activity, sleep patterns and other information vital to a successful and healthy personal lifestyle.
" From the very outset, we wanted Basis to go beyond being simply a motion-based, single-sensor device. And we wanted it to be well-designed—something familiar that fit perfectly into your lifestyle.
Basis is comfortable and looks great. It's sleek, stylish, lightweight and customizable with straps in different colors. So it goes wherever you go and with whatever you're wearing.
Beneath its polished surface lies serious technology. Your Basis band contains the most advanced sensors on the market, continuously capturing heart rate patterns, motion, perspiration and skin temperature throughout the day and night. Learn more about how these work on our FAQ."